How To Get Traffic To Your Website?
Ways to bring traffic to your website

Web traffic refers to each person who logs on to your website. These are recorded as visits or sessions. The traffic is also specific to each page of your website. Each page's traffic is configured independently of all other pages.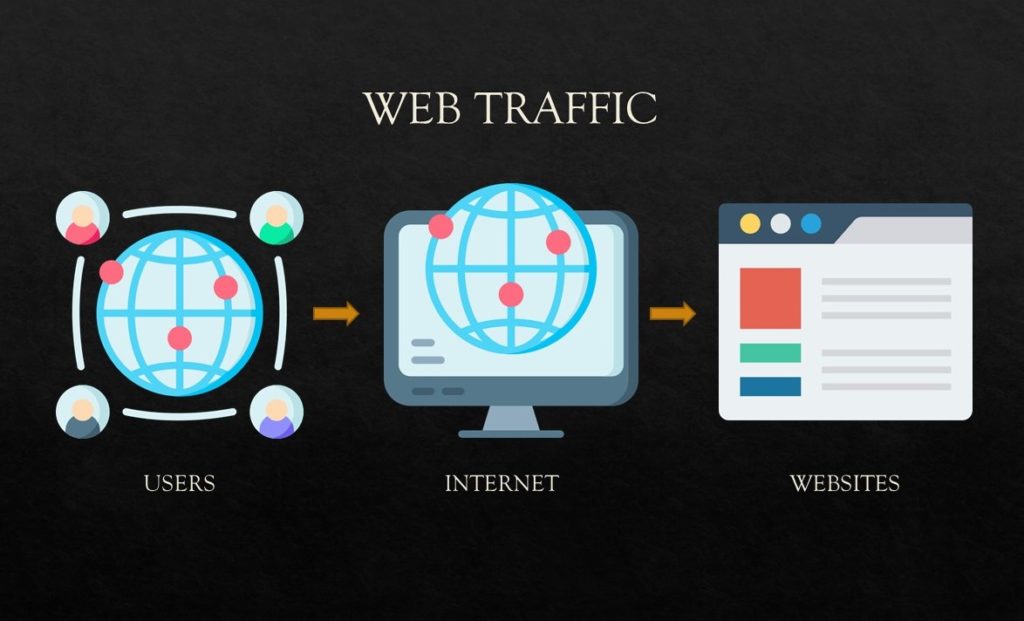 Some of the major advantages of having high traffic on your websites are the following:


Greater revenue in the form of conversions and sales
Increased brand awareness and more websites exposure
Earn revenue through sponsored posts and advertisements
Ways to bring traffic to your site:
Paid advertising

Paying to advertise your products / services with ads, is one of the easiest ways to drive traffic to your website. Some of the options available are search ads, social media advertising and display advertising.
Search Ads – are ads that are displayed in search engine results when a user's query matches the exact keywords an advertiser has bid on.
Social Media Advertising – involves increasing website traffic, engagement, brand awareness and other marketing goals by creating various forms of content for different social media platforms.
Display Advertising – involves creating ads that are placed in specific areas of website in the form of text ads, images ads, rich media ads and video ads.
Promote your website on social media platforms

Once your content has gone live, take advantage of different social media and promote your content. Some of the most popular platforms available are Facebook, Instagram, LinkedIn and the like.
Facebook – is best suited for industries like food and beverages, news and media and e-commerce.
Instagram – is best for industries that are successful on Instagram such as beauty, food, beverages and e-commerce.
LinkedIn – is best for content on  blogs, industry news, tips and best practices and jobs. It is great if you are in B2B, focusing on the business side of it.
YouTube – it is part of Google's system and a video platform so this is good for gaming, entertainment, tutorials and vlogs.
Twitter – it is a great platform to get some awareness that is related to beauty and fitness, news and media and entertainment.
Guest Blogging

Having the opportunity to guest post on another website can be very helpful for your website, helping build your brand and potentially increase blog traffic. If you do guest blog you will have to create a relevant topic related to your industry and that way you are targeting the right audience. Exposing to you to targeted traffic, helps you expand your personal network, helps you to rank in SERPs as you generates some backlinks and it will help your site rank higher, helps grow your social media following, helps improve your online authority and improves your backlink score are the benefits of guest blogging. It is all about reaching out to an audience in a form of a blog because it will grow brand awareness and generate qualified leads.

Interview industry thought leaders

Reaching out to thought leaders for interviews, it could generate credibility for you and the other person. It allows you to engage leaders in the industry and as a result it will increase traffic. Just like guest blogging it will also increase your reach as you get yourself outside. Your target audience will know who the thought leaders are and when they see you interviewing them this will put you in front of these people.

Responsive website

It has to work in multiple devices specifically on mobile. This ensures your website looks good and can function well across multiple devices. Depending on the device, your website hides, shows, shrinks, enlarges or moves content to make sure it looks good.
Some points to consider are:
The content's arrangement based on importance
Should be tested on multiple devices and browser
Images, text and controls are aligned
Ensure your website popups are responsive
Rendering speed across browsers, devices and etc.
Build a brand community

It refers to a group of people who identify your brand and use your brand as platform to exchange ideas and contribute content.
Some advantages:
Promotes brand evangelism and loyalty
Source of feedback, loyalty and ideas
The feedback that you get from your community can be used for future marketing strategies and it can provide PR opportunities. Any brand should be able to identify the target audience and this should be part of your community.
Be active in the comments section
Engage in relevant and thought-provoking conversations on industry blogs and sites to build a reputation for your brand. It will make your audience see that you are knowledgeable in your field of industry and eventually, it will result in traffic to your own website.
Implement SEO Strategy
It will help you improve your overall searchability and visibility of the website. Some of the advantages such as organic search provides a primary source of traffic, builds trust and credibility because majority of the people will click on the organic listing. It provides increase engagement and traffic. Engagement could be a download of a document or signing a newsletter and etc. The amount of the traffic that brings through search will bring a strong engagement. Performing SEO also provides an improved user experience and helps target quality traffic. It is a great way to meet the audience halfway and drive traffic to get them to enjoy user experience.
Build backlinks Links that directs users from other websites to your own. It rings your content in front of a larger audience, while driving qualified traffic to your website.
Advantages include:
Improves organic ranking
Faster indexing by search engines- the quicker you get indexed the quicker you'll be found.
Helps get referral traffic
Internal Links Connecting from one page to another on the same websites. It can help direct visitors to others pages, help navigate the website, and find other pages they would find useful.
Advantages include:
It improves the indexing of your site
Reduces bounces rates – helping people move from one page to another because you want to keep people on your site.
Drives traffic to older posts – linking other blogs posts related to the new one that you created.
Improves PageRank
Helps spread link juice across websites – it builds relevancy just like backlinking
Long-tail keywords

They are more than just 1 key word phrases. Long-tail keywords has lesser competition for your keywords. It also attracts customers who have a higher change to convert
Advantages include:
Lesser competition for your keywords
Attracts customers who have a higher chance to convert
Brings targeted traffic to your website
Enables easier on-page optimization
Email Marketing

It provides an effective way to convert leads into sales by sending personalized emails to targeted audience.
Advantages include:
Cost effective
Time saving
Real time marketing
Less intrusive
Helps build credibility, increase visibility and brand awareness
Easy way to track return of investment
Host Webinars

Another great method of effective social media promotion. It provides a direct contact of your targeted group.
Advantages include:
Provides direct contact with your target group
Saves money and cost less

Source: www.simplilearn.com


More Related Topics:

Content Marketing Strategy Easy Ways To Grow Your Online Business in 2021